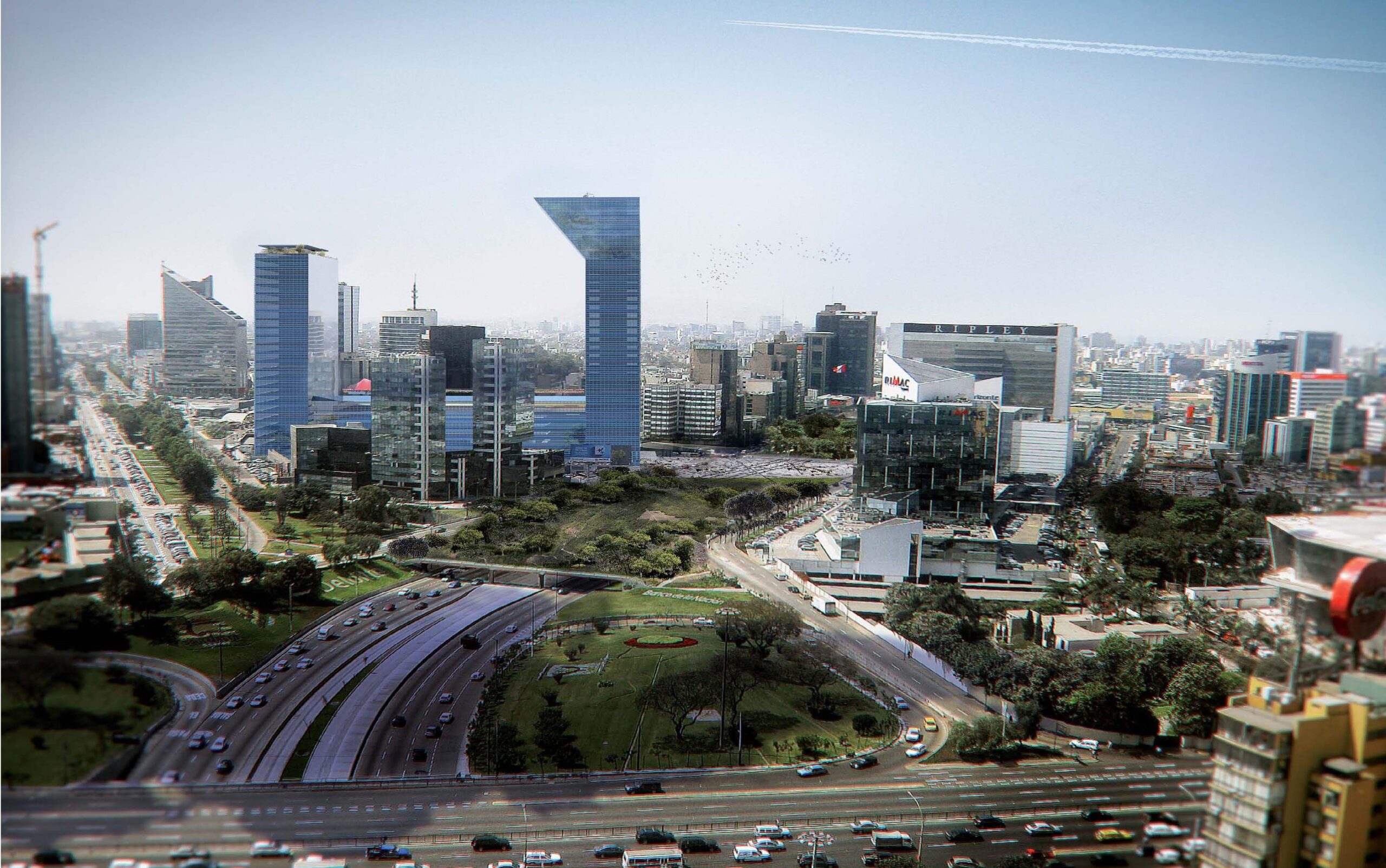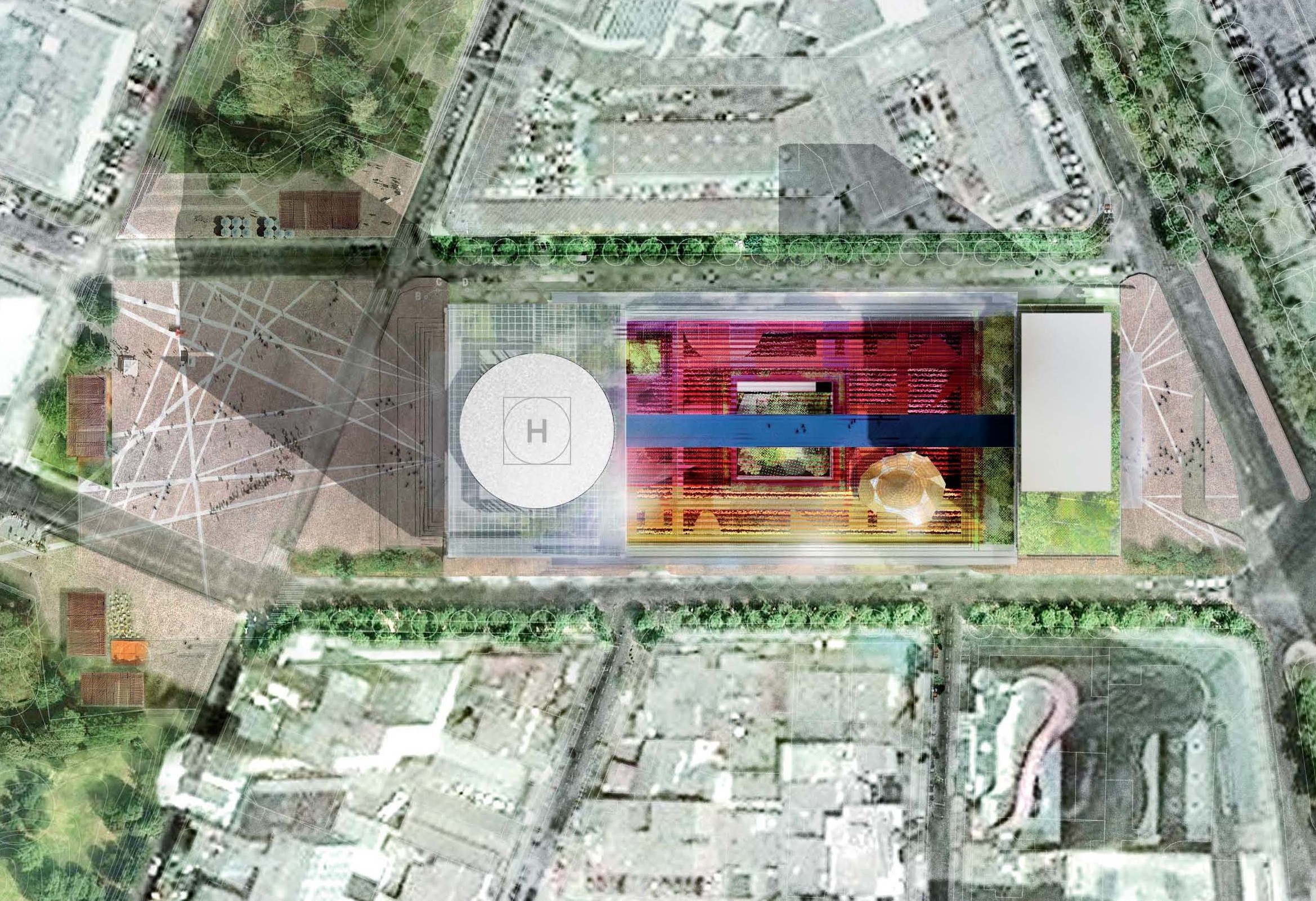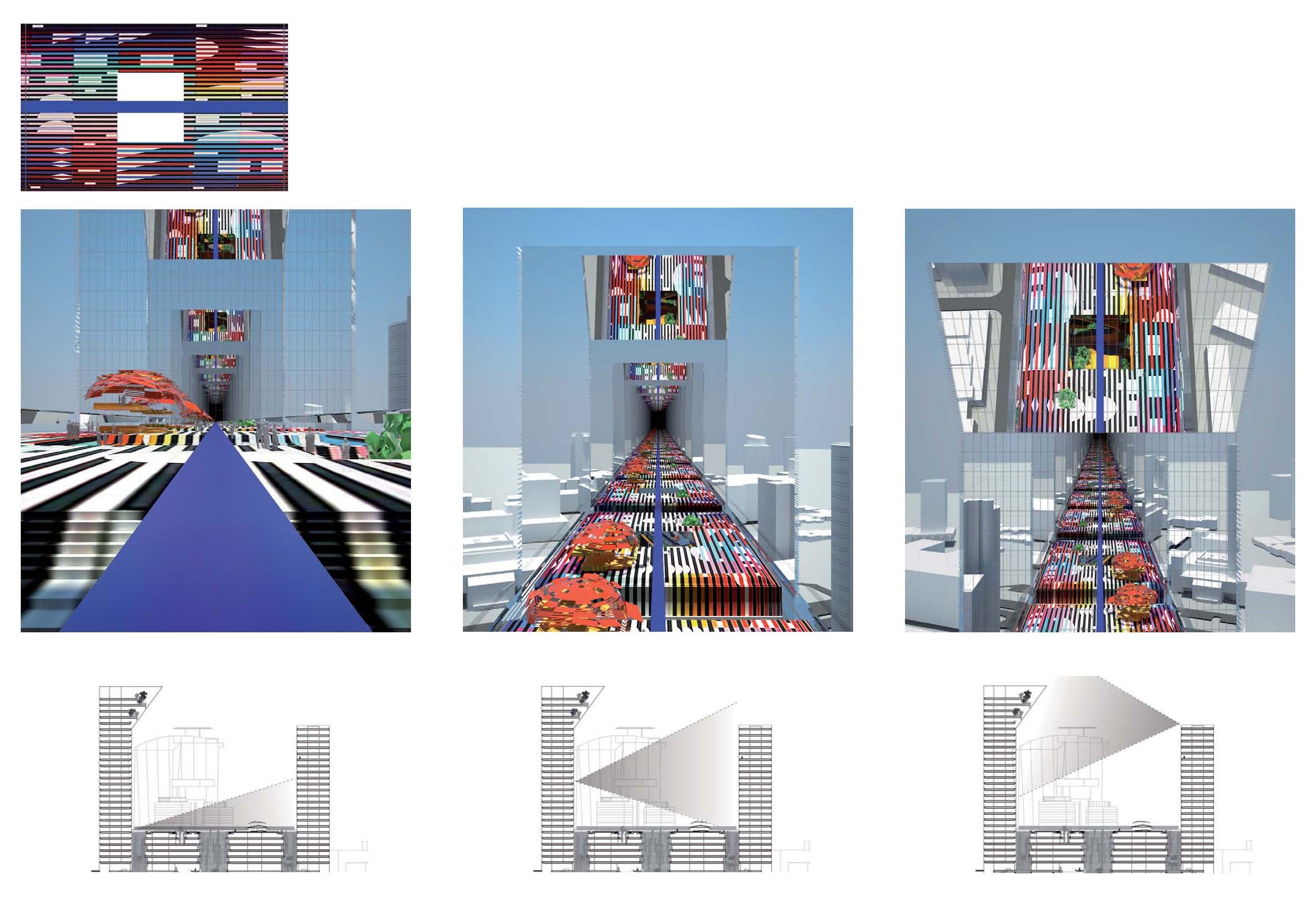 INTERSEGURO CORPORATE CENTER
The Interseguro Corporate Center is a project located in the financial zone of San Isidro district, in Lima. It consists of two towers 32 and 25 stories high and an 8-storey building. The 11,800 sqm site has a privileged location, as two of its four fronts face important metropolitan avenues that connect the project with the rest of the city.
The use of this complex is mainly for office, but it also offers a 4-storey boutique hotel inside the highest tower, amenities for its users such as a gym, a spa and swimming pool, plazas and terraces in front of retail stores and luxury restaurants on the first level. Additionally, the highest tower has a helipad 135 meters above ground floor.
The complex has 8 levels of basements, adding an area of ​​89,000 sqm, which offer 1,720 parking spaces, including spaces for electric or low-consumption vehicles. The first basement offers 60 parking spaces for bicycles, bathrooms, showers and dressing rooms for cyclists, as well as technical rooms for electrical, mechanical and plumbing installations and a PTAR (gray water treatment plant).
In addition to the basement tech rooms, each building has a technical level of HVAC equipment on the 15th floor of both towers and under the roof of the 8-storey building. All commercial area adds up to more than 76,000 sqm of GLA and the total built-up area is almost 200,000 sqm. The roof and the facades of the 8-storey building, as well as the interior of the towers, contemplate more than 3,000 sqm of green areas; for this reason, due to the efficient use of gray water for drip irrigation, as well as the proposed materials, and the efficiency of the air conditioning systems, the project obtained the LEED gold rating.
One of the main concepts of the project is to visualize the reflection of both towers and the 8-storey building green roof from these same places, through the glass mirror covering the facades, creating a Droste effect.
The conception and development of this project was in charge of the renowned architect Jean Nouvel, awarded the Pritzker Prize in 2008. The local collaboration in charge of project management, support in development, compatibilization and specification at the level of detail was in charge of Persivale & Calle Arquitectos, and Shell Arquitectos between the years 2011 and 2014.
Project Info:
Architecture: Ateliers Jean Nouvel
Local Architecture: Persivale & Calle Arquitectos, Shell Arquitectos
Client: Urbi Propiedades, InRetail
Location: San Isidro, Lima-Perú
Project Status: Construction completed
Project Area: 193'150.00 sqm
Number of Stories: 32, 25 y 8
Leasable Area (office): 89'300.00 sqm
Leasable Area (retail): 6'250.00 sqm
Environmental Certification: LEED Oro
LEED Consultant: Sumac
Structure: Antonio Blanco
Plumbing: Jorge Gamboa
Electrical: Juan Deustua
HVAC: Daniel Gutiérrez
Landscaping: Eileen Dancuart
Project Management: SYASA
3D views and models: Ateliers Jean Nouvel
Shell Arquitectos: Alejandro Shell, Carlos Yagui, Vladimir Cóndor, Franco Elías, Luis Tomassini, Diego Silva Santisteban